Wonder not then, what God for you saw good.
If I refuse not, but convert, as you,
To proper substance; time may come when men
With Angels may participate, and find
No inconvenient Diet, nor too light Fare:
And from these corporal nutriments perhaps
Your bodies may at last turn all to Spirit
Improv'd by tract of time, and wing'd ascend
Ethereal, as we, or may at choice
Here or in Heav'nly Paradises dwell.

John Milton
(1608 - 1674)
Paradise Lost
Book V, Lines 490-500
Arch Angel Raphael speaking
to Adam & Eve
(and by extension all mankind)
in the Garden of Eden.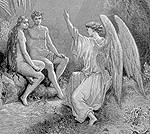 ---
* * * * * * * * * * * * *
The quality of mercy is not strain'd,
It droppeth as the gentle rain from heaven
Upon the place beneath: it is twice blest;
It blesseth him that gives and him that takes:
'Tis mightiest in the mightiest: it becomes
The thronéd monarch better than his crown;
His sceptre shows the force of temporal power,
The attribute to awe and majesty,
Wherein doth sit the dread and fear of kings;
But mercy is above this sceptred sway;
It is enthronéd in the hearts of kings,
It is an attribute to God himself;
And earthly power doth then show likest God's
When mercy seasons justice.

Look how the floor of heaven
Is thick inlaid with patines of bright gold;
There's not the smallest orb which thou behold'st
But in his motion like an angel sings,
Still quiring to the young-ey'd cherubims;
Such harmony is in immortal souls,
But whilst this muddy vesture of decay
Doth grossly close it in, we cannot hear it.

William Shakespeare
The Merchant of Venice
1. Act 4. Scene 1
2. Act 5. Scene 1